Categories
We accept all major credit cards and ship to over 150 different countries.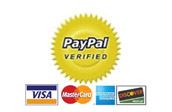 ABOUT US AND HOW TO PLACE AN ORDER
Welcome to Go Figure! We specialize in an unmatched selection of action figures.
We offer dedicated customer service to ensure an effortless buying experience.
Established in 1995 and headquartered in Painesville, Ohio,
Go Figure's mission is to be the preferred provider of action figures
to consumers and collectors alike, worldwide.
Our customers choose us because we offer an unmatched selection
and have outstanding customer support.
Our e-commerce web site achieves this by supplying over 10,000 different action figures
and offering several methods of payment and communication.
While our commodity may be toys, we believe the actual product delivered is JOY!
Our checkout process is as easy as 1-2-3.
1) Select and add your items to your shopping cart.
2) While in your shopping cart, enter any coupon codes you may have, your country
(International customers, please select All other countries),
zip code, and your payment method.
Shipping is automatically calculated.
3) Enter your billing and shipping address (if different) and then submit your order.
For our international customers shipping outside of the USA:

We use GlobalShopex to ship your orders.
While in your shopping cart, please select "All other countries" from the Country drop down list.
You will then be taken to GlobalShopex.com where you will have different shipping options available and the option to pre-pay for any customs duties/taxes that may be due.
Please visit GlobalShopex.com for more information.