Heavy Duty (The Rise of Cobra)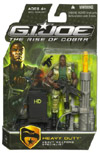 Heavy Duty (The Rise of Cobra)
Price: $24.99
HEAVY DUTY combines brains and brawn to support the G.I.JOE team with tactical expertise and muscular might. He knows the optimal weapons to use in any situation and will never stand down until every last COBRA is defeated.
The battle's about to really heat up with this awesome HEAVY DUTY figure! With his heavy weapons specialty and wielding his combat accessories, this skilled warrior is determined to give the bad guys the fight of their lives. Will he succeed? You decide!
Figure comes with heavy artillery weapon accessories.