Clone Commander Thire (CW32)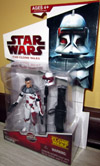 Clone Commander Thire (CW32)
: 653569425953
Price: $54.99

On Sale! $49.99
Clone Commander Thire protects Yoda from attacking battle droids during a mission to the Toydarian system. Bred and trained for combat, Thire engages the enemy as a seasoned warrior. His mission is to get the Jedi Master to the rendezvous point, and he doesn't allow anything, even a droid army, to stop him.
Get ready for battles of epic proportions with this awesome Clone Commander Thire figure! Help him charge into action and fight for the fate of the galaxy with his firing missile launcher accessory. Even when he's just standing at attention in your collection, this mighty figure is sure to inspire all kinds of out-of-this world adventures!
3.75" scale figure comes with firing missile launcher and other weapon accessories.