Captain Britain (Marvel Universe, series 2, 026)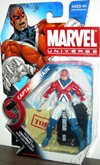 Captain Britain (Marvel Universe, series 2, 026)
: 653569510055
Price: $29.99

On Sale! $24.99
Unlike his siblings, Brian Braddock is not a mutant. Until he was a young man, he lived a perfectly normal life. He never considered himself particularly heroic until a string of tragedies brought him into inevitable contact with Merlyn, who flooded him with mystical power. Now, he serves the British Isles as Captain Britain, a hero powered by the magical energy inherent in Britain itself. So long as his homeland thrives, Brian Braddock will protect her.
Intricately detailed down to the last muscle, this articulated Captain Britain action figure is ready to fight! Send him into combat to fight for the fate of the world or leave him posed for action on his stand as a warning against evil-doers everywhere. The battle is just beginning and the power is in your palm of your hands!
Figure comes with a classified file with a secret code.