12" Wallace Ripcord Weems - Reactive Impact Armor (The Rise of Cobra)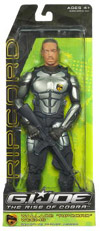 12" Wallace Ripcord Weems - Reactive Impact Armor (The Rise of Cobra)
Price: $99.99
Military pilot WALLACE "RIPCORD" WEEMS is the best friend of CONRAD "DUKE" HAUSER. While storming the M.A.R.S. facility in the arctic, he wears reactive impact armor that's lightweight and flexible but instantly hardens when hit by weapons fire.
Extreme battles require extreme fighters and this 12-inch tall WALLACE "RIPCORD" WEEMS figure is just the soldier for the job! Clad in his special "reactive impact armor" and wearing a tough as nails expression, this awesome action figure is ready to battle his way through the toughest COBRA forces and then right rise up the ranks of your G.I. JOE collection!
Figure comes with weapon accessory.