Clone Trooper 212th Attack Battalion (The Clone Wars)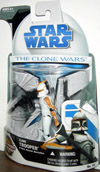 Clone Trooper 212th Attack Battalion (The Clone Wars)
: 653569350453
Price: $29.99
The clone troopers of the 212th Attack Battalion are distinguished by the orange markings on their white armor. Led by Clone Commander Cody and Jedi General Obi-Wan Kenobi, this unit includes a number of elite infantrymen trained for special missions.
Step into The Clone Wars animated world with this articulated action figure based on the animated forces. In full detail, this figure has orange-and-white armor and comes with a firing rocket launcher! Pose him in defense as you stage him in your own galactic battles.
No. 19 87939 Clone Trooper 212th Attack Battalion.