Saleucami Trooper (The Legacy Collection)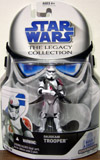 Saleucami Trooper (The Legacy Collection)
: 653569372332
Price: $24.99
"During the final days of the Clone Wars, Stass Allie leads clone troopers on the desert world of Saleucami. While patrolling on a speeder bike, Allie is struck down by clone troopers who receive Order 66, which directs them to treat all Jedi as a threat to the Republic.
Team up with this no-nonsense warrior and head into a galactic battle – right from the comfort of your living room! Use this detailed Saleucami Trooper figure to create your own adventures! Action figure, based on the memorable Star Wars character, comes with one Droid Factory™ part! Collect other specially marked Legacy Collection figures (sold separately) for more Droid Factory parts! Then build your very own custom droid figure!
Figures come with a weapon accessory and 1 Droid Factory part."