K-9 Officer & Attack Dog (Code Name: Mutt & Junkyard)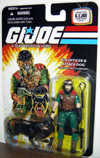 K-9 Officer & Attack Dog (Code Name: Mutt & Junkyard)
: 653569341178
Price: $29.99
MUTT is a natural with animals. He likes them, and they like him. The problem is that he gets along better with dogs than he does with humans. He graduated Jungle Warfare Training School, and was attached as a cadre to Special Ops School and as an adviser to the Security and Enforcement Committee. He and his K-9 dog JUNKYARD have worked together so long, they no longer need to give each other audible or visual signals. Itís almost as if they function as one organism.
Get these two detailed action figures in on some exciting GI JOE action! Based on the characters from the animated series, stage your very own K-9 officer and attack dog poses!
Figures come with accessories.