Captain America (Marvel Universe, series 2, 008)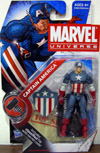 Captain America (Marvel Universe, series 2, 008)
: 653569478157
Price: $24.99
Steve Rogers was originally intended to be the first of a generation of super soldiers. When the secret of the super soldier formula was tragically lost, however, he became the one and only Captain America. Sent into battle at the front lines across Europe and Asia, he became a symbol of American defiance in the face of tyranny.
Intricately detailed down to the last muscle, this articulated Captain America action figure is ready to fight! Send him into combat with his shield accessory to battle it out for the fate of the world or leave him posed for action on his stand as a warning against evil-doers everywhere!
Figure comes with stand, shield accessory and classified file with secret code.