Para-Viper - Cobra Paratrooper (The Rise of Cobra)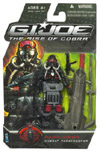 Para-Viper - Cobra Paratrooper (The Rise of Cobra)
Price: $24.99
PARA-VIPER units are highly trained aerial commandos for COBRA who have undergone a procedure that renders them utterly fearless. Their next-generation, low-profile heli-packs provide extended flight and keep them undetectable to radar. Their preferred weapon? M.A.R.S. Industries D57-A extreme environmental tactical rifle.
Pump up your battle play with this fearless-looking action figure and his trusty weapon accessories. Plan your next move carefully to outmaneuver your opponents and save the day. Intense action and adventure are coming your way!
Action figure comes with a stand, weapon accessories and battle gear accessories.