Ghost Rider (Marvel Universe, series 2, 030)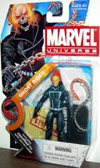 Ghost Rider (Marvel Universe, series 2, 030)
: 653569510109
Price: $39.99

On Sale! $29.99
Driven to desperation by the impending death of his adoptive father, Johnny Blaze made a deal he would regret forever. His father was miraculously cured of cancer, only to die in a fiery wreck, and Johnny became the Ghost Rider. Barely in control of the demonic power that coursed through him, he hunted evil men across the country. Whenever he could, he turned his powers to the greater good, but he never forgot that his fate was sealed.
Intricately detailed down to the last muscle, this articulated Ghost Rider action figure is ready to fight! Send him into combat with his chain accessory to fight for the fate of the world or leave him posed for action on his stand as a warning against evil-doers everywhere. The battle is just beginning and the power is in your palm of your hands!
3.75" scale figure comes with a chain accessory and a classified file with a secret code.