Black Widow (Marvel Universe, series 2, 011)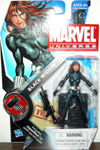 Black Widow (Marvel Universe, series 2, 011)
: 653569478188
Price: $34.99

On Sale! $29.99
There was a time when the Black Widow was considered a villain by the heroes of the United States. She was every bit the patriot Captain America was — she just worked for a different country. She continues to use her phenomenal fighting skills and unique technology in the best interests of mankind as a member of the Avengers, rather than as a Russian super spy.
Intricately detailed down to the last muscle, this articulated Black Widow action figure is ready to fight! Send her into combat with her weapon accessory to battle it out for the fate of the world or leave her posed for action on her stand as a warning against evil-doers everywhere!
Figure comes with stand, weapon accessory and classified file with secret code.