Plo Koon (The Legacy Collection, Saga Legends, SL No. 9)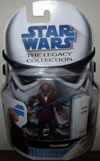 Plo Koon (The Legacy Collection, Saga Legends, SL No. 9)
: 653569350903
Price: $29.99
Jedi master Plo Koon is a member of the Jedi Council and comes form a long line of Jedi. Serving as a General in the Clone Wars, he leads a battalion of clone troopers against Separatist forces.
Prepare to head into an out-of-this-world adventure when you team up with this detailed Plo Koon figure. Armed with his lightsaber and clone gear, this Jedi faithful is ready to take over the galaxy – or at least your collection!
Figure comes with clone gear and lightsaber.