Ice-Viper - Arctic Assault (The Rise of Cobra)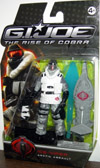 Ice-Viper - Arctic Assault (The Rise of Cobra)
: 5010994395414
Price: $24.99

On Sale! $14.99
Injected with nanomites, ICE-VIPER commandos are inhumanly strong, incapable of feeling fear or pain and able to withstand freezing temperatures. They defend an Arctic research lab when the G.I. JOE team storms the facility to shut it down.
The battle has only just begun when you add this menacing ICE-VIPER figure to the mix! With his high tech weapon accessories, this detailed figure would easily overpower an ordinary opponent. But can he beat the powerful forces of the G.I. JOE team? Only you can decide!
3.75" scale figure comes with weapon accessories.