Moon Knight (Marvel Universe, #027)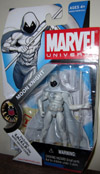 Moon Knight (Marvel Universe, #027)
: 653569384885
Price: $49.99
No one, not even Moon Knight himself, is really sure whether he's actually the avatar of the ancient god Khonshu, or if he's just crazy. It is without a doubt that he is stronger than the average man, and a far superior fighter to all but the best. He has devoted himself to Khonshu, acting out the Egyptian god's agenda of revenge against criminals from one end of the world to the other.
Detailed with defined "muscles", put this masked Moon Knight action figure in a battle-ready pose with his staff weapon accessory aimed at the enemy! Fully articulated, he's ready to make a stand in your collection.
3.75" scale action figure comes with a weapon accessory and a S.H.I.E.L.D. file with a secret code.