Zartan - Master of Disguise (The Rise of Cobra)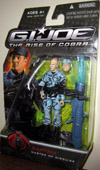 Zartan - Master of Disguise (The Rise of Cobra)
: 653569384946
Price: $29.99
ZARTAN, who has been injected with nanomites, is a master of disguise and expert mimic who can impersonate anyone; heís also a COBRA mercenary and covert agent. He impersonates a G.I. JOE agent to infiltrate the Pit and retrieve the nanomite weapon prototypes, but itís his next impersonation that will be the culmination of his devious career.
The battle has just begun when you add this menacing ZARTAN figure to the mix! With his high tech weapon accessories, this detailed figure would easily overpower an ordinary opponent. But can he beat the powerful forces of the G.I. JOE team? Only you can decide!
Figure comes with disguise and weapon accessories.