Wolverine & Silver Samurai (Marvel Universe Comic Pack #2)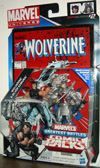 Wolverine & Silver Samurai (Marvel Universe Comic Pack #2)
: 653569625261
Price: $59.99
On the soot-stained rooftops above Madripoor's Low Town, WOLVERINE and the SILVER SAMURAI are locked in battle over the legendary black blade - an evil sword with the power to corrupt the spirit of even the purest warrior. Both men are near-perfect fighters, their bodies honed by a lifetime of combat, but only one will walk away from this battle.
The fast-paced action and excitement never end as you stage battles between your 3.75" tall WOLVERINE and SILVER SAMURAI action figures! Re-create your favorite scenes from the included comic book or create your own super-powered showdowns. With these mighty articulated action figures, the fate of the world is in your hands!
Includes WOLVERINE #2 comic book.