Dark Wolverine & Dark Spider-Man (Marvel Universe)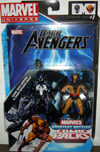 Dark Wolverine & Dark Spider-Man (Marvel Universe)
: 653569513179
Price: $69.99

On Sale! $64.99
Deep beneath Thunderbolts Mountain, the monstrous Venom is changed into a virtual copy of the hero Spider-Man by the evil genius of Norman Osborn.
Elsewhere, the rage-filled son of Wolverine is recruited to replace his father. Both men become members of Osborn's Dark Avengers, a group of criminals masquerading as the heroes whose names they've stolen.
5" tall 2-Pack includes Dark Avengers Issue #1 comic book.