Storm Shadow - Arctic Assault (The Rise of Cobra)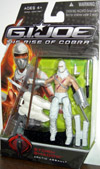 Storm Shadow - Arctic Assault (The Rise of Cobra)
: 653569408437
Price: $29.99
STORM SHADOW is a ninja mercenary hired by COBRA to perform covert missions. He battles his enemy SNAKE EYES, the G.I.JOE teamís ninja commando, armed with swords and a backpack that has concealed spring-activated blades. His preferred weapon? Hand-forged steel heirloom katana sword.
Jump into action with this rugged-looking action figure and his weapon accessories! Plan your next move carefully to outmaneuver your opponents and carry out COBRAís destructive plans. Intense, adrenaline-pumping action is coming your way!
Action figure comes with a stand and weapon accessories.