Snake Eyes - Arctic Assault (The Rise of Cobra)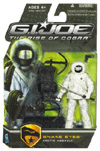 Snake Eyes - Arctic Assault (The Rise of Cobra)
: 653569408406
Price: $24.99
NINJA COMMANDO SNAKE EYES trains the G.I. JOE team in hand to hand combat. He's an expert at assault missions that take place in extreme conditions, so he is well prepared to help the team infiltrate the M.A.R.S. Industries base in the remote arctic. His preferred weapon? Hand forged steel heirloom katana sword.
Jump into action with this fearless looking action figure and his weapon accessories! Brave the frigid arctic temperatures to carry out essential war operations and take control of the M.A.R.S. Industry base, or create your adventures with this courageous figure! Either way, get ready for adrenaline pumping excitement!
Action figure comes with a stand, removable helmet and weapon accessories.