Rocky Balboa (IV, post fight)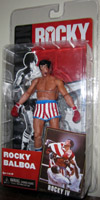 Rocky Balboa (IV, post fight)
: 634482530337
Price: $39.99
Rocky proudly holds the World Heavyweight Title, but a new challenger has stepped forward: Drago, a six-foot, four-inch 261 pound fighter who has the backing of the Soviet Union.
Nothing can truly prepare Rocky for what he is about to face - a powerfully charged fight to the finish in which he not only defends himself, but the honor of his country!
6.5" fully poseable Rocky features him in bloody stars & stripes trunks and blood coming from mouth.