Jungle Camo Arf Trooper (CW24)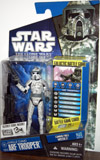 Jungle Camo Arf Trooper (CW24)
: 653569514305
Price: $29.99
Advanced Recon Force (ARF) clone troopers conduct reconnaissance missions. They are trained in stealth techniques to gather information without being detected by the enemy. Wearing jungle camouflage armor, they are deployed to the planet Teth to scout the location where Jabba the Hutt's son Rotta is being held captive.
An "intergalactic" battle is raging -- and you and your ARF Trooper action figure are about to enter the fray! Arm your warrior with his "missile"-firing cannon accessory so that he's ready to charge into combat against his fiercest enemies. Whether fighting for the fate of the "universe" or standing at attention in your collection, this awesome action figure puts all of the excitement of the Star Wars saga right in the palm of your hand!
Figure comes with cannon and missile accessories, Galactic Battle Game card, battle base and game die.