Counter Intelligence (Code Name: Scarlett, International Collection)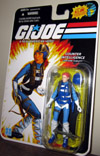 Counter Intelligence (Code Name: Scarlett, International Collection)
: 653569364146
Price: $29.99
SCARLETT first learned martial arts from her father and three brothers, who are martial arts instructors. She began her training at age nine and was awarded a black belt at age 15. She graduated summa cum laude from two Ivy League universities and went on to excel in training courses at all four branches of the armed forces. The COBRA® organization often mistakes her for just a pretty face rather than a member of the elite G.I. JOE team, which makes her perfect for undercover missions, on which she uses various aliases. She is a naturally gifted pilot who has flown in some of the most advanced military aircraft in the world and is one of the G.I. JOE team's helicopter pilots.
Team up with this articulated counter intelligence action figure! From the G.I. JOE International Collection, this SCARLETT figure comes complete with helmet and weapon accessories, making her one stunning figure for your collection.
WARNING: CHOKING HAZARD. Small Parts. Not for children under 3 years.