Iron Man Power Assault Armor (04)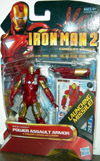 Iron Man Power Assault Armor (04)
: 653569454397
Price: $24.99
"Some combat zones are too hot, even for IRON MAN. That's why his build this super-reinforced Combat Zone armor. Tougher armor and heavier weapons mean no place is too dangerous to do battle.
Prepare to save the world, with a will of steel and a suit of "iron"! Throw your Iron Man Power Armor Assault figure right into the middle of the action — this hero has more than enough power to defeat any sinister opponents. When you've got the worst of the worst evil-doers in your sights, make your action figure level his launching missile accessory at their forces. There isn't a bad guy in the world that can match the might of you and your Iron Man figure!
Figure comes with launching missile accessory, three Armor Cards and display stand.
4"" tall."