Cobra Viper Commando - Desert Ambush (The Rise of Cobra)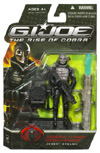 Cobra Viper Commando - Desert Ambush (The Rise of Cobra)
Price: $24.99
COBRA VIPER commandos carry out highly dangerous and deadly operations. They attack the convoy transporting nanomite weapon prototypes through a remote desert. Supported by advanced vehicles and weapons, they ruthlessly batter the convoy and the special forces protecting it.
The battle's about to really heat up with this awesome COBRA VIPER COMMANDO figure! With his combat accessories, this skilled warrior is determined to give the good guys the fight of their lives. Will he succeed? You decide!
Figure comes with weapon accessories.