G.I. Joe Pit Commando - Covert Military Force (The Rise of Cobra)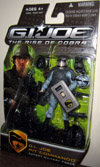 G.I. Joe Pit Commando - Covert Military Force (The Rise of Cobra)
: 653569406662
Price: $39.99
G.I.JOE PIT COMMANDOS are rigorously trained for any situation that requires immediate response, decisive action and outstanding expertise. There elite soldiers are specialists at combat reconnaissance and covert missions. Their preferred weapon? An 820 selective-fire long-range fully automatic assault rifle.
Pump up your battle play with this fearless-looking action figure and his trusty weapon accessories. Plan your next move carefully to outmaneuver your opponents and save the day. Intense action and adventure are coming your way!
Action figure comes with a stand and battle gear accessories.