IG-88 (BD40, concept art)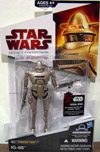 IG-88 (BD40, concept art)
Price: $104.99
In this concept art by Ralph McQuarrie, the droid IG-88 has a broader shape than its ultimate appearance. The chrome war droid and bounty hunter still has a menacing presence with its simple lines that evoke its purpose: destruction.
Prepare for out-of-this-world excitement with this detailed and articulated IG-88 figure, based on concept art for the legendary film series. Armed with his blaster accessory, your determined warrior is ready to fight through even the toughest battles you set up for him! This awesome action figure even comes with one Droid Factory part. Collect all of the figures (each sold separately) and their included Droid Factory parts to build your very own YVH-1 figure!
Figure comes with a blaster accessory and includes one Droid Factory part.