Prison Escape Jack Sparrow (3 1/2")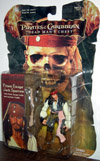 Prison Escape Jack Sparrow (3 1/2")
: 843625000037
Price: $24.99
Place of origin:
Unknown.
Personality:
He will do anything to remain free. A trickster and manipulator who is upfront and honest about how he plans to rob you blind.
Weapons Proficiency:
Sword, pistol, ship's battery, improvisation.
Base of operations:
The Caribbean and the Seven Seas.
Includes pistol, escape coffin and leg bone paddle.