12" Conrad Duke Hauser - Jungle Mission (The Rise of Cobra)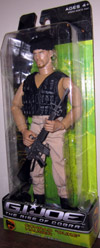 12" Conrad Duke Hauser - Jungle Mission (The Rise of Cobra)
: 653569406716
Price: $54.99
Before joining the G.I. JOE team, CONRAD "DUKE" HAUSER served as a Special Forces Army Captain. One of his covert missions took him to a remote jungle lab, where a tragedy occurred that will ultimately change the fate of the entire world.
Extreme battles require extreme fighters and this 12-inch tall CONRAD "DUKE" HAUSER figure is just the soldier for the job! Clad in his special combat gear and wearing a tough-as-nails expression, this awesome action figure is ready to battle his way through the toughest COBRA® forces and then rise right up the ranks of your G.I. JOE collection!
Figure comes with weapon accessory.