Abel "Breaker" Shaz (The Rise of Cobra)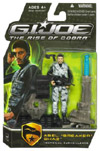 Abel "Breaker" Shaz (The Rise of Cobra)
: 653569384960
Price: $39.99
ABEL "BREAKER" SHAZ is a communications specialist for the G.I.JOE team who applies his innovative thinking to technological problems. In other words, he's a supremely gifted hacker who can manipulate the digital and electronic worlds to achieve the desired results.
The battle's about to really heat up with this awesome BREAKER figure! With his technical surveillance specialty and combat accessories, this skilled warrior is determined to give the bad guys the fight of their lives. Will he succeed? You decide!
Figure comes with weapon accessories.