Conrad "Duke" Hauser - Tough Troopers (The Rise of Cobra)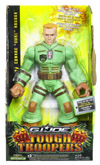 Conrad "Duke" Hauser - Tough Troopers (The Rise of Cobra)
Price: $48.99
Drill Sergeant Conrad 'Duke' Hauser takes command of the G.I. Joe team and leads them into battle.
Press his dog tag and you'll see lights and hear exciting battle sounds.
When he's ready to attack the enemy, press the button on his back to see his mighty power punch action.
Includes 3 "AAA" POWRFUEL batteries.