Power Man & Iron Fist (Marvel Universe)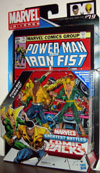 Power Man & Iron Fist (Marvel Universe)
: 653569625308
Price: $49.99
With the help of the strange, otherworldly fighter known as IRON FIST, POWER MAN has cleared his name of the charges that dogged him for years. Despite having nothing in common, the two men decide to form a partnership. Their decision is just in time, as a pair of deadly, world-class assassins have the two heroes in their sights.
Join forces with your two new hero friends and prepare to save the day! Send your IRON FIST and POWER MAN figures into battle against their enemies and decide if the bad guys will win or if your mighty warriors will triumph. Even just standing in your collection, these two are a force to be reckoned with!
4" tall figures come with Power Man and Iron Fist # 79 comic book.