Shipwreck - Naval Commando (The Rise of Cobra)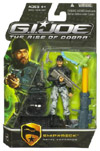 Shipwreck - Naval Commando (The Rise of Cobra)
Price: $24.99
SHIPWRECK is the G.I.JOE team's expert on marine warfare both above and below the waves. He's trained in advance naval combat and demolitions. A true sailor with the sea in his blood, he and his parrot, Polly, prefer the open ocean to dry land.
The battle's about to really heat up with this awesome SHIPWRECK figure! With his naval command specialty and wielding his combat accessories, this skilled warrior is determined to give the bad guys the fight of their lives. Will he succeed? You decide!
Figure comes with parrot figure and naval weapon accessories.