Snake Eyes - Tough Troopers (The Rise of Cobra)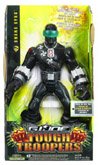 Snake Eyes - Tough Troopers (The Rise of Cobra)
Price: $48.99
SNAKE EYES is the G.I. JOE team Commando and a powerful ninja. He takes on COBRA with a ninja arm chopping attack!
You won't just act out a battle, you'll feel like you're in it with this SNAKE EYES figure! Press his dog tag and you'll see lights and hear exciting battle sounds. Then, when he's ready to attack the enemy, press the button on his back to see his mighty arm chop action! The bad guys have definitely met their match!
Tough looking SNAKE EYES figure features sounds, lights and a powerful arm chop at just the push of a button! Includes 3 "AAA" POWRFUEL batteries.