Spider-Man & Thunderball (Marvel Universe Comic Packs #3)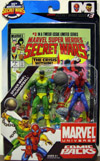 Spider-Man & Thunderball (Marvel Universe Comic Packs #3)
: 653569427384
Price: $27.99

On Sale! $24.99
Celebrating the 25th anniversary of the greatest crossover event of all time.
Fresh from their first victory over the villains, the heroes take refuge from a violent storm in their immense new base. While Thunderball lies locked in a stasis chamber, prisoner of the heroes, Spider-Man explores the base. Though many of the other heroes are eager to go back on the attack, all the web-slinger wants is to finish the fight and get back to Earth.
3.75" scale figures includes Secret Wars Issue #3 comic book.