Spider-Man with midnight stealth costume (Spider-Man 3)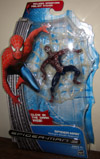 Spider-Man with midnight stealth costume (Spider-Man 3)
: 653569228905
Price: $44.99
Spider-Man has faced some tough battles in his life as a super hero, but never anything like this. Three villains out for revenge have come to New York, intent on taking down the friendly neighborhood wall-crawler. Spider-Man is in the fight of his life, and he'll need every last bit of his super strength and web-slinging skill to make it out alive!
This awesome action figure comes decorated in a midnight stealth costume and a glow-in-the-dark web! Suction cups on the web attach to some walls and windows. Affix the web, then pose Spider-Man on the web! Highly detailed and posable, this is one friendly neighborhood action hero figure to add to your collection!
Figure and sand hand come with a Spider-Man peel-off sticker.