Team X Wolverine (Marvel Universe, series 2, 027)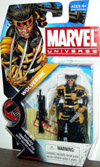 Team X Wolverine (Marvel Universe, series 2, 027)
Price: $24.99
Assembled and run by the CIA, Team X executed deniable operations around the world during the 1960's. When something was too well-protected or too sensitive to just attack, Wolverine and the other members of Team X were sent in. Quick, quiet, and committed, the team took out targets both hard and soft with brutal efficiency.
Intricately detailed down to the last muscle, this articulated Wolverine action figure is ready to fight! Send him into combat with his weapon accessory to fight for the fate of the world or leave him posed for action on his stand as a warning against evil-doers everywhere. The battle is just beginning and the power is in your palm of your hands!
Figure comes with a weapon accessory and a classified file with a secret code.