Clone Trooper Hevy in Training Armor (CW41)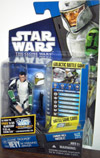 Clone Trooper Hevy in Training Armor (CW41)
: 653569534488
Price: $29.99

On Sale! $19.99
Clone trooper Hevy trains for battle on Kamino. Hevy is part of Domino Squad, which is doing poorly in their training exercises. During one battle simulation, the trooper practices with a Z-6 rotary blaster cannon. He and his squad members ultimately overcome their differences to work together successfully as a team.
Cannon figures missile.
3.75" scale, includes battle game card, die & base.