Super Battle Droid (CW16)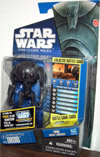 Super Battle Droid (CW16)
: 653569514558
Price: $24.99
A super battle droid is harder to destroy than its more vulnerable predecessor. This powerful droid has a protective body case and built-in double-laser blaster. Once it is unleashed on a target, a super battle droid does not cease advancing and firing its weapons until the object of its attack has been eliminated.
An "intergalactic" battle is raging - and you and your Super Battle Droid action figure are about to enter the fray! Arm your warrior's firing missile launcher accessories so that he's ready to charge into combat against his fiercest enemies. Whether fighting for the fate of the "universe" or standing at attention in your collection, this awesome action figure puts all of the excitement of the Star Wars saga right in the palm of your hand!
3.75" tall figure comes with firing missile launcher accessories, one Galactic Battle Game card, battle base and game die.