Iron Man 2 Hypervelocity Armor (05)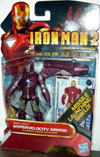 Iron Man 2 Hypervelocity Armor (05)
Price: $24.99
When a mission is too sensitive for Iron Man to be seen, he breaks out the Black Ops Armor. State-of-the-art stealth technology lets him get in and out unseen and do what needs to be done in total silence.
Prepare to save the world, with a will of steel and a suit of "iron"! Throw your Iron Man Hypervelocity Armor figure right into the middle of the action — this hero has more than enough power to defeat any sinister opponents. When you've got the worst of the worst evil-doers in your sights, make your action figure level his "missile" launching shield accessory at their forces. There isn't a bad guy in the world that can match the might of you and your Iron Man figure!
Figure comes with shield accessory, three Armor Cards and display stand.
4" tall.