Snake Eyes - Paris Pursuit (The Rise of Cobra, with gray Timber)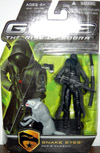 Snake Eyes - Paris Pursuit (The Rise of Cobra, with gray Timber)
: 653569403081
Price: $49.99
Ninja master and military Commando SNAKE EYES trains the G.I. JOE team in hand-to-hand combat. He goes to Paris to track down the nanomite weapons before COBRA forces can unleash them. His loyal pet wolf Timber (gray version) is trained in ninja tracking and protection.
The battle has only just begun when you add this brave SNAKE EYES figure to the mix! With his high tech weapon accessories, this detailed figure would easily overpower an ordinary enemy. But can he beat the sinister power of the COBRA forces? Only you can decide!
Figure comes with weapon accessories.