Mary Jane Watson (Marvel Universe, series 2, 023)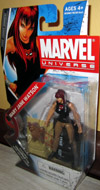 Mary Jane Watson (Marvel Universe, series 2, 023)
: 653569510192
Price: $74.99
Every guy remembers the girl who got away. For Spider-Man, that girl is Mary Jane Watson. For reasons neither of them can quite put their finger on, a relationship that should have been a love for the ages just never worked out. After the break-up, MJ headed west to pursue her acting career, while the wall-crawler stayed in New York to defend the city he loves. They still share fond feeling for each other, but whenever they try to get together something seems to get in the way.
Intricately detailed, this articulated Mary Jane Watson action figure always plays an important part in the Spider-Man character's story! (Additional action figures sold separately) Craft stories around her character or add her and her pet accessory into your favorite dramatic scenes. Will the good guys or the bad guys triumph? The battle is just beginning and the power is in your palm of your hands!
Figure comes with pet accessory and a classified file with a secret code. 3.75" scale.