The Flash, Green Lantern & Hawkman 3-Pack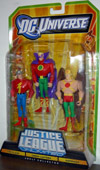 The Flash, Green Lantern & Hawkman 3-Pack
: 746775108861
Price: $54.99
Jay Garrick gained his powers as The Flash when he inhaled the hyper-charged atoms of a radioactive liquid.
Alan Scott became Green Lantern when he found a piece of the alien "Starheart" in the form of a green metal lantern. He fashioned a ring that allowed him to create objects and constructs out of solid green light.
Carter Hall was an archaeologist and reincarnated spirit of the Egyptian Prince Khufu. He created a belt and wings using Nth Metal, an anti-gravity alloy, and became the legendary Hawkman!
All three became charter members of the first Justice Society of America.
4.5" tall.