Imperial Scanning Crew (BD32)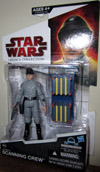 Imperial Scanning Crew (BD32)
: 653569464877
Price: $39.99
An Imperial scanning crew checks the Millennium Falcon to make sure no one is on board. The two-man crew brings the scanner onto the ship and quickly discovers the vessel is not as empty as it first appeared to be.
Prepare for out-of-this-world excitement with this detailed and articulated Imperial Scanning Crew figure. Armed with his blaster accessory, your determined warrior is ready to fight through even the toughest battles you set up for him! This awesome action figure even comes with one Droid Factory part. Collect all of the figures (each sold separately) and their included Droid Factory parts to build your very own R3-A2 figure!
Figure comes with a blaster accessory and includes one Droid Factory part BD 32.