Elite-Viper - Elite Regiment Officer (The Rise of Cobra)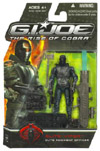 Elite-Viper - Elite Regiment Officer (The Rise of Cobra)
Price: $24.99
ELITE-VIPERS are the personal guards of DESTRO and strict enforcers of their commanderís orders. These top-notch mercenaries have extensive military training and are skilled in the use of the advanced weaponry developed by M.A.R.S. Industries. Their preferred weapon? The M.A.R.S. Industries D57-B extreme environment electromagnetic rifle.
Get ready for intense combat as you and your ELITE-VIPER action figure plot a top secret war operation. Ward off opponents and protect your home turf with his weapon accessories. Enemy troops will be no match for you and your fierce-looking figure!
Action figure comes with a stand and weapon accessories.