12" Wisecracking Spider-Man (with 10 phrases)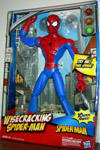 12" Wisecracking Spider-Man (with 10 phrases)
: 653569464426
Price: $74.99

On Sale! $44.99
The bite of a genetically altered spider gave young Peter Parker unimaginable spider-powers. Unfortunately it took the tragic loss of his Uncle Ben for Peter to learn that with great power comes great responsibility. Now Peter must learn to juggle the daily challenges of growing up with his amazing adventures as the people's hero: the spectacular Spider-Man.
Your favorite web slinger is ready to take on whatever comes his way – even a wisecracking foe! Press this Spider-Man figure's signature spider logo for 10 wisecracking phrases, like, "I'm thwippin' out!" and "My spider-sense is tingling!" Snap on his utility belt and send him zooming down his webline to save the day! You can even "launch" two web missiles to let the "bad guys" know that this superhero is on his way!
Figure comes with webline, snap-on utility belt and 2 launching web missiles.
Requires 2 "AAA" batteries (included).