G.I. JOE 25th Anniversary Comic Pack: TOMAX and XAMOT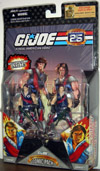 G.I. JOE 25th Anniversary Comic Pack: TOMAX and XAMOT
: 653569293439
Price: $59.99
It's been 25 years since the battle between G.I. JOE and COBRA began, and to celebrate the anniversary…Larry Hama is back! Yes, the original writer of the classic G.I. JOE comics is back with all-new stories that give you previously unknown background on favorite characters and never-before-seen details about major stories from the annals of G.I. JOE!
"Bad Day at the Circus" (Comic #2)
The G.I. JOE team encounters the CRIMSON GUARD commanders TOMAX and XAMOT and realizes that this is not the first time their paths have crossed! 3.75" scale.