Archangel (Marvel Universe, series 2, 015)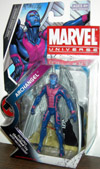 Archangel (Marvel Universe, series 2, 015)
: 653569485292
Price: $49.99

On Sale! $39.99
His body and mind twisted by mutant super science, Warren Worthington became a henchman of the evil Apocalypse. He soared aloft as a monster, obeying his master's every command. Worthington's mind was strong, however, and he broke free of the ancient mutant's brainwashing. Using his steel wings, enhanced strength, and damage resistance, he currently adventures with the mutant black-ops team X-Force.
Intricately detailed down to the last muscle, this articulated Archangel action figure is ready to fight! Send him into battle to fight for the fate of the world or leave him posed for action on his display stand as a warning against evil-doers everywhere!
Figure comes with display stand and classified file with secret code.