Iron Man (Marvel Universe, #001)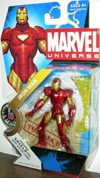 Iron Man (Marvel Universe, #001)
Price: $24.99
Multi-billionaire industrialist Tony Stark has lived a double life as the hero Iron Man for decades. He is an engineering genius; the best weapons designer on the planet. He personally builds every iteration of the Iron Man armor, trusting no one but himself with the powerful technology he harnesses. He has used his dual role for both personal gain and the glory of mankind, as a solo adventurer, and a founding member of the Avengers.
Detailed with red-and gold-colored "armor", pose this Iron-Man action figure in a battle-ready pose with his "light beam" accessory aimed at the enemy! Fully articulated, he's ready to make a stand in your collection.
Action figure comes with a "light beam" accessory and a S.H.I.E.L.D. file with a secret code.