Sgt. Stone - Special Forces Commando (The Rise of Cobra)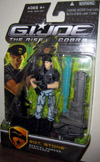 Sgt. Stone - Special Forces Commando (The Rise of Cobra)
: 653569403135
Price: $29.99
"SGT. STONE is a special operations instructor who trains the G.I. JOE team in combat tactics, marksmanship, survival techniques and other commando skills. He battles NEO-VIPER forces who drill their way into the G.I. JOE PIT HEADQUARTERS.
The battle has only just begun when you add this brave SGT. STONE figure to the mix! With his high-tech weapon accessories, this detailed figure would easily overpower an ordinary enemy. But can he beat the sinister power of the COBRA forces? Only you can decide!
Figure comes with weapon accessories."